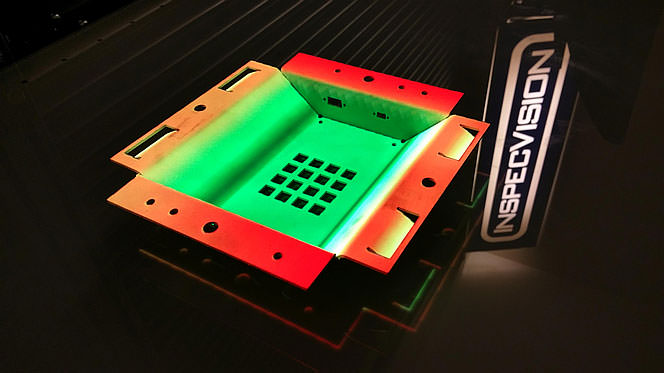 Simple, 3D option to enhance InspecVision's Planar 2D Measurement System.
2 ½D Sheet Metal Production
While 2D sheet metal production has become more reliable, 3D or 2½D sheet metal production is still susceptible to errors such as bending spring-back, press-brake programming errors, missing forms, louvres and inserts.
The demand for these 2½D parts is increasing and it is now common to see punching machines create parts with louvres, forms, inserts and even small folds. Even when the part is nominally flat it is quite common for the features punched in the part to deform the metal creating a relatively unflat component.
The InspecVision Opti-Scan 3D is a highly capable 3D scanner, however adoption of a full 3D scanning system on the shop floor can be daunting.
A low cost and easy to use alternative is needed
The system should;
Be aimed at shop floor operators
Perform basic 3D inspection tasks such as checking form and insert heights and fold heights, lengths and angles with ease and against the 2D CAD files available on the shop floor
Be capable of full 3D scanning and comparison to 3D CAD models if required 
Download brochure